Green Echoes #10
Key investigative stories, data sources, funding/training opportunities and our projects from across Asia.
Welcome to Green Echoes, a newsletter from the Environmental Reporting Collective that highlights key investigative stories, data sources, funding, reporting and training opportunities and our projects from across Asia.
Did you read last week's special edition, featuring Seulki Lee's look at environmental reporting in South Korea? It's also available on our site, now too, so please take a look, and share.
We're evolving the format of this newsletter a bit – we'll be sharing more original content like that, along with new thematic issues that highlight relevant trends and reporting around topics of environmental journalism in Asia.
(Don't worry, we'll still share links to resources, events, and opportunities regardless of their focus).
Reminder: Episode three of our conversation series - Should indigenous peoples be allowed to hunt wildlife? is this Thursday, June 25 at 8pm Malaysia time. You can find recaps of our first two conversations here.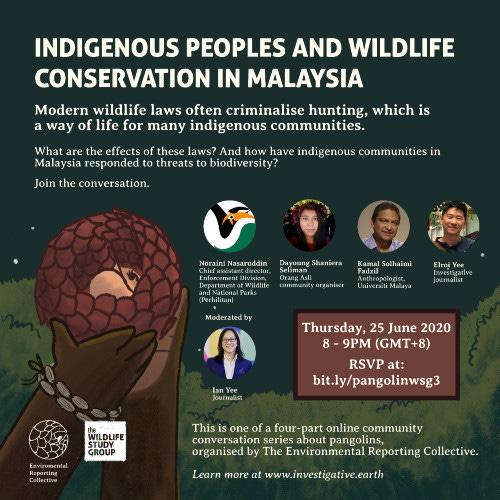 Some of you pointed out that the wording on this poster is exclusionary. It was not our intention to do so, or to diminish the important work being done by everyone advocating for inclusive conservation. We hope to carry on the conversation with all of you on Thursday and build this series into a platform for open, honest discourse on environmental issues.
In Focus: Climate Refugees
June 20 was World Refugee Day, and the inspiration for this week's theme.
In 2018, the Global Compact on Refugees recognized the growing concerns about climate refugees, stating that "climate, environmental degradation and natural disasters increasingly interact with the drivers of refugee movements." The World Bank estimates in a business-as-usual scenario that by 2050, Latin America, sub-Saharan Africa, and Asia will generate 143 million more climate migrants.
In 2019, most displacements occurred in Asia, according to the Internal Displacement Monitoring Centre. It estimated 9.6 million displacements in East Asia and the Pacific (compared to 288,000 due to conflicts, pdf), and 9.5 million in South Asia (compared to 498,000 due to conflicts, pdf).
There is evidence that climate change is already resulting in refugee movements in Myanmar, Bangladesh, Afghanistan and pretty much everywhere else. There is more data and science on which communities and regions are at highest risk of forcible displacement due to climate change.
For example:
Sometimes, all a story needs is a reporter visiting an impacted community. In this video story for The Third Pole, journalists Ramesh Bhushal and Nabin Baral traveled to villages in eastern Nepal where lack of water is forcing everyone to move. Similarly, this visual feature in the New York Times connects a land shift due to an earthquake to rising sea levels in Batasan, an island that is slowly disappearing in the Philippines.
In China, The Paper set a new standard for climate migration reporting with a piece in 2015 on the resettlement of 350,000 people in Ningxia. Reporter Shi Yideng and her colleagues followed migrants as they moved from arid to better land. Also noteworthy is a 2017 video reportage by Caixin reporter Chen Weixi focused on the last nomads of a banner community in Inner Mongolia.
Featured Journalist: Akshit Sangomla, India
Akshit is a science reporter for Down To Earth, based in New Delhi. Two of his recent stories focused on a recent report predicting a 4.4°C temperature rise in South Asia due to climate change. One focused on the impacts of climate change on South Asia's yearly monsoon while the other on the potential for more cyclones in the Indian ocean.
We spoke to Akshit to get some insight on how he connects climate science to issues of concern to readers.
What are the main challenges you face while reporting on environmental topics in India?
The main challenge is regarding access to data while pursuing certain sensitive stories, especially from government departments and agencies. Another major challenge is a lack of domain experts who would like to speak to the media about subjects related to the environment.
How could this reporting be advanced, and do you plan to continue to focus on this topic going forward?
I think the reporting can be advanced by creating new and promoting existing networks of environmental journalists. This would increase exposure to reportage from other countries and regions. Domain experts should also be made part of these networks so that the reportage is as factual as possible.
What do you hope readers take away when they read your reporting?
I try to break down complicated subjects like the science of meteorological and climate change events as much as I can so that readers are not only aware of what is going on but also understand the reasons behind why and how these events are happening.
Best Reporting from Asia
For Mongabay, Junaidi Hanafiah reports on increased poaching amid COVID-19 in the Leaser ecosystem, one of the last remaining in-tact landscapes on the island of Sumatra in Indonesia.
There is a growing push to build a canal in Southern Thailand, an alternative to the congested Straits of Malacca. Anoontawas Bootin traveled along the canal's 135km proposed route, capturing viewpoints from potentially impacted communities. See an English summary of their video report in Thai PBS here.
Did we miss anything outstanding? Is there anything you'd like us to highlight in the next issue? Let me know by responding to this email.
Latest Resources and Events
WildEye, a wildlife crime mapping tool from Oxpeckers, now allows you to automatically subscribe to alerts about new data on seizures, arrests, court cases and convictions relating to wildlife crime across the continent.
Engage Media has put together a database of Covid19 resources, geared towards the Asia-Pacific region. It includes resources on digital security, combatting disinformation, and more.
PLOS has introduced the biodiversity conservation collection, which showcases research on a broad range of conservation science related topics.
China Dialogue is hosting a webinar entitled Can China build back greener? on July 3.
SCCCN 2020, a participant-led conference from OpenNews for journalists who want to transform their work, their organizations, and their communities, will be taking place virtually from July 15-17. Details here.
Are you hosting an event or have a funding opportunity you want to feature here? Let me know by responding to this email.
That's all for this week. Like the new format? Have ideas for future themes? Would you like to recommend a colleague to be featured here? Please share your thoughts by responding directly.
Stay safe and healthy,
Nithin Coca
PS. Did you know we have a Environmental Reporting Collective slack? It's another effort to build a cross-border community for investigative reporting. Join to connect and, potentially, collaborate with journalists from around the world.
---
The Environmental Reporting Collective is a group of reporters and editors across Asia and elsewhere, working together to rethink how environmental journalism is done. We support collaborative journalism projects that start new conversations on how our societies impact our planet. Such stories are complex and expensive. That's why they require new approaches to research, reporting, editing and distribution.
To learn more about our work, check out our website, Investigative.Earth, and follow us on Twitter and Facebook. You can also let us know what you would like to see in this newsletter by responding to this email.