Chapter 9: Nepal
A new trafficking hub?
Criminal syndicates in Africa and Asia are working together — and competing — to meet the seemingly insatiable demand for pangolins in China and other markets. Over the last nine months, over 30 journalists across 14 countries and territories investigated how illegal pangolin trafficking is leading the species to become extinct.
Today, we're sending you our dispatch from the Nepalese capital, Kathmandu.
You can find our global report here:
---
Two men aged 40 and 34 were intercepted at Tribhuvan International Airport in Kathmandu in March, carrying 162 kilograms of pangolin scales in their check-in luggage.
The pair had picked up the scales in the Democratic Republic of Congo, transited in Istanbul, then attempted to transit again in Nepal on their way to Shanghai. They are now at the Nakkhu Jail on the outskirts of Kathmandu, where they are awaiting trial.
Their arrest was a watershed moment: It was the largest recorded seizure of pangolin scales in Nepal and the first haul from an African pangolin species. It led police to worry that Nepal has become a new transit point for pangolins heading to China.
Information extracted from their mobile phones revealed that they were communicating with Chinese wildlife smugglers via WeChat, a Chinese messaging and payment app. Investigations identified a Nepali, a Bangladeshi and a Chinese accomplice. The three are still at large.
"This is a distinct case of international organised crime, but it is just the tip of the iceberg," said Birendra Johari of the Nepali police's Central Investigation Bureau. "Our investigations show that pangolins in recent times have become the most poached wildlife in Nepal."
Although Nepal lies on the traditional wildlife smuggling route between India and China, it has so far avoided the large-scale seizures seen in places like Singapore, Vietnam and Hong Kong. The bulk of arrests to date involve small amounts of locally poached pangolins with no apparent connections to larger syndicates.
However, experts say they are concerned that this is changing. One reason is improving infrastructure.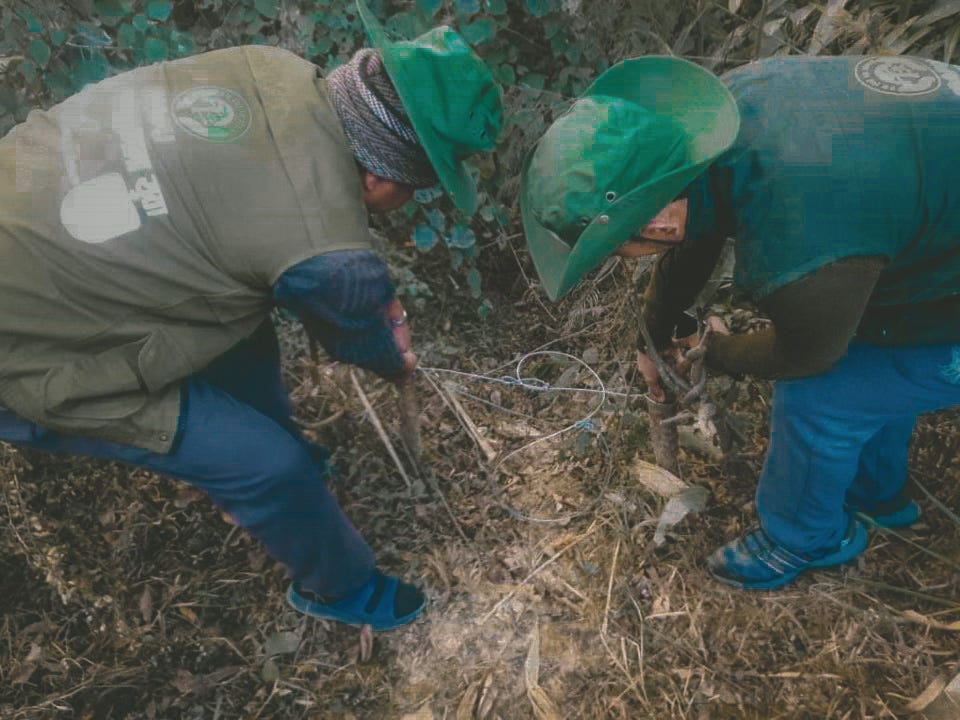 Members of a community-based anti-poaching unit removing animal snares in Kavre district, Nepal. Nepal has not recorded any major busts so far, but wildlife law enforcement experts say that pangolins have become the most poached wildlife in the country in recent years. © Zoological Society of London / Himalayan Nature
The reopening of the Tatopani-Kodari border crossing with China earlier this year after it was destroyed during the 2015 earthquake, the increasing use of the Rasuwa-Kerung border crossing, and the prospect of a new trans-Himalayan railway line could all make Nepal a more attractive transit point for traffickers. Police in the Dolakha district, bordering China, also speak of rising demand that has led to the near disappearance of the animal.
"Nepal is already a signatory of China's Belt and Road Initiative, which could increase market access and trafficking of wildlife," said Kumar Paudel of Greenhood Nepal, a conservancy group, adding that pangolins from Africa, India and Bangladesh were already being intercepted in Nepal en route to China.
Just five months before the arrest in Kathmandu, there was an almost identical case, in which two Chinese nationals were arrested smuggling suitcases full of pangolin scales from Congo.
Except this arrest was made, not in Nepal, but in Hong Kong.
---
On Saturday, we'll send you our report from Hong Kong.
---
If you have questions or tips, or would like to get in touch with our reporters and editors, just respond to this email.
---
All text can be re-shared and republished under the following Creative Commons license: Attribution-NonCommercial-NoDerivatives 4.0 International (CC BY-NC-ND 4.0).
---